Louis Vuitton, Burberry, Coach, Prada...designer handbags that girls just can't get enough of!

Designer Handbags

Got it in the Bag
E: The Environmental Magazine, July-August, 2005 by: Rebecca Sanborn, Brian C. Howard

Move over Prada, there's a new bag in town. The Zipsack by Wrapsacks ($11.95) is small enough to fit in your pocket and large enough to carry all of your groceries. Made of hand-dyed cotton in a range of bright colors, these bags zip up neatly into small pouches that would fit easily into a purse or glove compartment. When unzipped, they are approximately the size of a grocery bag with a small pocket sewn into the top for valuables. Aside from their convenience, durability and good looks, these bags can also help reduce the number of flimsy plastic sacks that end up dogging your closets and piling up in landfills. Wrapsacks also offers reusable fabric gift bags in many colors and styles.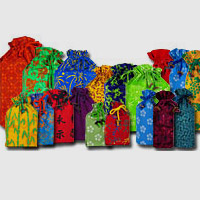 Bags from Annon Fashion are designed for girls and young women ages 13 to 22, and are perfect for anyone craving some 80s revival denim. The two-person, father and daughter company hand makes all of its bags from recycled blue jeans. The five fun styles currently available (more are forthcoming) include backpacks ($24 to $26), a smaller handbag ($20), a drawstring bag ($28) and a messenger bag ($28). No two items are exactly alike. Designer and founder Roderick Annon Warfield explains that by using recycled material, his company is "doing our part not to waste, or take for granted what we have in this country." CONTACT: Annon Fashion, (765) 653-0540, www.fashionbyannon.com; Wrapsacks, (800) 505-3365, www.wrapsacks.com.

Copyright 2023 Earth Action Network, Inc.
Copyright 2023 Gale Group