Louis Vuitton, Burberry, Coach, Prada...designer handbags that girls just can't get enough of!

Designer Handbags

MAD About Bags! Trendy Carriers for Stylish Sisters
Ebony, June, 2004 by: Zondra Hughes

WELL-DRESSED women everywhere know that the perfect outfit requires the perfect handbag, and this season's offerings of satchels, hip slings, clutches, duffle bags and handbags are guaranteed to have something for everyone.

The fashion industry is offering various purse styles for that upscale, enterprising, social climbing, Sister-on-the-go, so if you're in hot pursuit of the perfect purse, check out a few of this season's must-haves.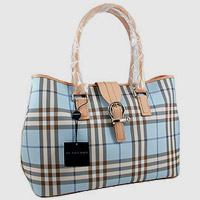 This Juicy Couture "Couture Satchel;' $350, is a chic carryall--it has front and hack pockets, a lipstick holder, cell phone pocket and mirror. The gigantic double-handle leather bag also has the signature "J" and silvertone studs.

You'll look stylish and smart with this dainty, durable and surprisingly affordable GIOE lilac-blue and white leather canvas double handbag, $45. Available at JC Penney.

Nothing says sophistication quite like this Marc Jacobs "Beverly" clutch, $750. It's a perfect companion for your favorite little black dress.

Whether you're pounding the city sidewalks or cruising the social scene, you'll stand out with these vibrant bags. Susan Natoli's "Flower Flower Khaki" bag,, $210, boasts a bold botanical print and patent leather straps for the social butterflies, Available at susannatoli.com. Girly girls will have fun with this Juicy Couture Terry Fairytale bar in bag in pink," $125.

Simply stunnin this Prada " Tessuto Street" tote (shown) in the Vovage color) has the disigner's signature durable fabric and printed calfskin handles and detailing $580.

COPYRIGHT 2004 Johnson Publishing Co.
COPYRIGHT 2004 Gale Group