Louis Vuitton, Burberry, Coach, Prada...designer handbags that girls just can't get enough of!

Designer Handbags

Handbags 'Must-Haves' for Tweens
DSN Retailing Today, June 13, 2005 by: Emily Scardino

While the licensed apparel industry is solid going into fall 2005, the accessories segment is really taking off.

"Other businesses [such as] accessories have all started to get much better distribution because we are now able to offer complete programs to retailers," said Natasha Fishman, director of business development for Sesame Workshop.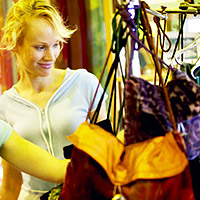 Driven by retailers' positive reception to lifestyle brands and cross merchandising, the demand for non-apparel items has increased dramatically.

"You will see our accessories in the market and we hope to launch a full apparel and accessory line by 2006," said Lisa Weger, vp of Cartoon Network Enterprises for the United States and Latin America, who has Accessory Network on board for bags, ACI for shoes and Kids Headquarters signed for apparel based on the "Hi Hi Puffy Ami Yumi" property.

One of the fastest-growing categories in women's accessories--handbags--have also become a particularly important item for tweens within the category overall. While backpacks remain a standby in both boys' and girls', they are a very seasonal back-to-school business so purses are key, either as stand-alone purchases in accessories departments or added-value incentives.

"Girls are aware of the category at a very young age," said Debra Joester, chairman and ceo of The Joester Loria Group, a licensing and marketing agency. "There are a lot of 10-year-olds running around with little Coach clutches, with disposable money, certainly aware that bags are really a key accessory."

4Kids Entertainment is also focusing on girls' accessories for its Winx property, based on an extremely popular, fashion-driven cartoon, producing an extensive line of purses, totes, hobos and backpacks with Accessory Network.

While accessories are growth drivers in the licensed category, expect bags to perform particularly well into next year.

Copyright 2023 Reproduced with permission of the copyright holder. Further reproduction or distribution is prohibited without permission.
Copyright 2023 Gale Group